Garlic and Rosemary Potato Soup.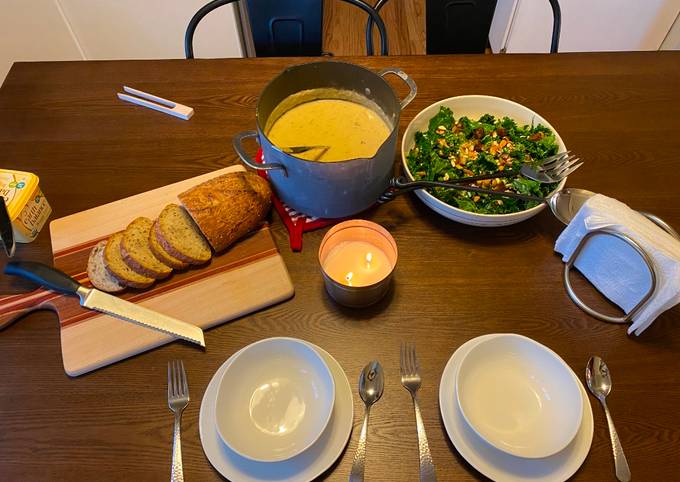 You can have Garlic and Rosemary Potato Soup using 16 ingredients and 14 steps. Here is how you achieve that.
Ingredients of Garlic and Rosemary Potato Soup
Prepare of Soup.
You need 2 pounds of waxy or semi-waxy potato (I use yukon gold).
Prepare 1 (15 oz) of can of cannelini beans.
You need 1 stick of celery.
You need 1 of leek.
You need 1 of onion.
Prepare 4 sprigs of fresh rosemary.
Prepare 8 of or more gloves of garlic, minced.
Prepare 2 tablespoons of olive oil.
You need 2 of bay leaves.
Prepare 4 cups of vegetable broth (I sometimes buy prepared broth or use a broth concentrate like Better than Bouillon or Knorr vegetable bouillon).
Prepare of Salt and pepper to taste (I use quite a bit of pepper. The amount of salt will depend on what kind of broth you use).
Prepare of Cashew Cream.
Prepare 1/3 cup of raw, unsalted cashews.
You need 1-2 cups of water.
It's of nutritional yeast to taste (I probably use 1/4 cup or more).
Garlic and Rosemary Potato Soup instructions
Chop the potatoes into desired size (I do quarters, or smaller depending on the size of the potato). Try to make them uniform so that they cook at the same speed..
Dice the onions and chop the celery, leek, and rosemary..
Heat the olive oil over medium heat in a large pan.
Add the onions, celery, and leek. Cook until they begin to slightly caramelize..
Add a dash of broth, oil, or lemon juice to deglaze the pan, and add the garlic and rosemary. Cook until fragrant..
Add the beans, potatoes, and bay leaves. Mix until coated..
Add the vegetable broth and bring to a boil..
Cover the pan (leaving a bit for steam to escape) and bring to a simmer. Cook until potatoes are tender (about 25-30 min)..
In the meantime, bring 1-2 cups of water and 1/3 cup of cashews to boil (you can add more cashews if you want the soup to be extra rich)..
Let the cashews boil for about 10 minutes. Then drain the cashews and let them sit until the soup is done cooking..
Once the soup is done, transfer the cashews and nutritional yeast to a blender with a few ladle-fulls of soup. Make sure you get some liquid as well as some of the solids. If you need more liquid, fill 'er up with more soup..
Blend, blend, blend, until creamy..
Stir the cream back into the soup and season to taste..
Serve with some salad, bread (sourdough is my preference!), and butter. Bon appetit!.
For Granma, I Love Cooking for Granma Recipes.